With the attire that is quite hard to match, Lee Min Ho has definitely absorbed the impossibilities and made it possible with this look.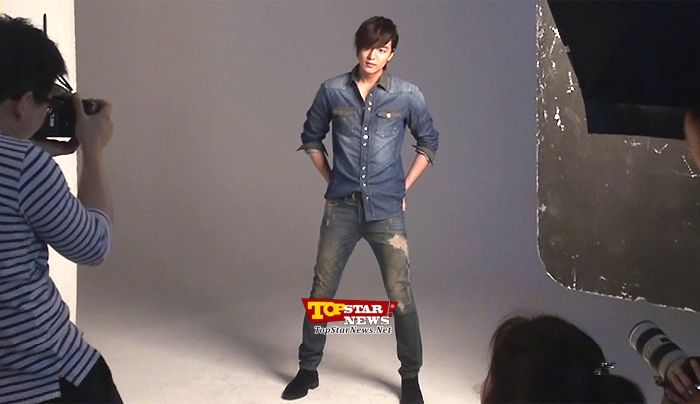 The photo was uploaded by one of the staff workers who is in the same company as Lee Min Ho and the photos were uploaded on the official facebook page of Staus Entertainment. Since the photo was taken by his phone, he said that the quality is not that great.
He looks quite casual and comfortable in the outfit, with some buttoned out the color matching with his top and bottom is fantastic. On the other hand, the first episode of the drama show he is casted in will be aired this August 13. Source: Topstarnews ——————– Lee Min Ho Tries the Denim on Denim Look Lee Min Ho boasted his manly charms by donning denim on denim.Through its official Facebook page, Lee Min Ho's agency Starus Entertainment posted a few pictures with the caption, 'The weather's really hot, so here are some photos to cheer you up. These are from the ad shoot in China, and he's trying out the manliest style of all, denim-on-denim! These were taken with a cell phone so please excuse the quality of the photos.' In the photos, Lee Min Ho was shown transformed into a modern-day James Dean.
Lee Min Ho managed to pull off the denim-on-denim look in a stylish way. He went casual with a jacket and a comfortable shirt, and matched pants with a different washed-out hue. Keeping a few buttons of his shirt unbuttoned emphasized the vintage aura. Netizens who saw his new style left comments such as, 'Guess style is perfected with looks. He has visuals that could win a gold medal', 'Perfect from head to toe' and 'If he had a motorcycle he would really be James Dean.' Lee Min Ho will soon be appearing on the small screen with the SBS drama Faith, which will air its first episode on August 13. He will be a Goryeo warrior named Choi Young, and will appear alongside Kim Hee Sun as Eun Soo. Photo credit: Starhaus Source: enewsworld